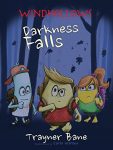 Publisher: LightChange Media, LLC (2017)
You access the book at:

Amazon
Author's Website
Darkness Falls, Part Two of the Windhollows series, pushes ahead with frightening discoveries, perilous expeditions, innocent young BeWe turned into monsters – and the emergence of a surprising hero.
Dr. Molskin, Billy's father, is the first in the Windhollows to notice that Beanies like himself are rapidly growing weak for lack of their required essence, PU2. This catastrophe can only be the work of Rip Stinker, the evil genius who robbed his son Billy and eight other young BeWe of their Beanie essence while still in the hospital nursery. Known afterward as "the Spent," Billy and his cohort were rejected and isolated because of Stinker's malevolence. Enlisting the help of Elwin Fuse, a fellow Spent parent, Dr. Molskin searches for Stinker, little knowing how truly powerful their adversary has become.
On his own, Billy is cheered up by new friends Teddy and Wendy; while far away, Skylar, his girlfriend among the Spent, is trying to escape from Stinker's reach by using newfound powers to enlist help from wild beasts. Meanwhile, Dr. Molskin and Elwin sneak into Stinker's castle and find Teddy's long-lost father imprisoned there. But Molskin must regretfully abandon both allies to get home alive. The intrepid doctor finally realizes that only his beloved Billy can save the BeWe. But first, Billy will need to find Flabbergaster, an ancient essence-bending staff.
Darkness Falls is the second in Trayner Bane's Windhollows series. And like the first part, it is riddled with entertaining flatulence references: all BeWe naturally and proudly produce smelly body breezes; "BackFire" is their favorite brand of cookie; and "breaking wind" is the term used for all new adventures, from waking up in the morning to embarking on a journey. But there is wisdom woven into the humor to enlighten the young readers of this engaging series. For example, though Billy is worried about Skylar and his father, he often reminds himself of an old BeWe adage, "Even in darkness there is light."
The author has called up motifs from classical mythology in conceiving Billy's heroic quest, beginning with a search for a magic weapon. With artwork by Carla Wallace and Scott Soeder, readers will delight in this amusing tale where bodily functions are heroic, and friendship is key. Moreover, Bane cleverly closes this episode with many questions unanswered and many companions in need of immediate rescue. This can mean nothing less than a third volume is on the way. All hail to the Beanie Weanies!