Story. Production. Beyond.
Take your books to the next level at the
Chanticleer Authors Conference 2018 #CAC18
April 20 – April 22, 2018
We have the perfect registration packet for you! 
Friday and Saturday Passes with Scott Steindorff, film producer, lunch , and Saturday Book Room 
Join us at #CAC18 to learn to improve your book marketing and promotion skills, build your author brand, and sell more books, located at the beautiful Hotel Bellwether, at Squalicum Harbor on beautiful Bellingham Bay, in Bellingham, Washington conveniently located between Seattle and Vancouver, B.C.

 FEATURING: 
We have some great presenters lined up. Check back for the latest updates.
Scott Steindorff, Executive Film Producer
Ann Charles,  USA Today Best Selling Author
Jessica Page Morrell, Top-Tier Editor, Master Writing Craft Classes
Lake Perriquey, Attorney at Law (Copyrights & IP)
Diane Sillan Isaacs, Creative Director, Partner Sillan Pace Brown Agency + Production Group, LLC
Beth Bacon, Young Readers & Middle-Grades Author
Dawn Groves, Online Presence & Email Marketing Specialist
Alison Vrbova, Content & Brand Strategist
Sara Dahmen, Contributing Editor to multiple magazines, award-winning author, metalsmith, TedX
Diane Garland, Continuity Specialist for Fiction Series
Kim Hornsby, Best-Selling Suspense Author, Scriptwriter
Janet Oakley,  Award-winning  author, historical fiction, community leader
Michelle Renee, Game Designer &  award-winning author of Historical Fiction
Jacquie Rogers, author of eleven Western novels, short stories, and novellas.
Janet Shawgo, Her novels have won more than 30 awards, and she is a full-time Travel Nurse
James R. Wells,  Contributor to the Daily KOS Page, Cygnus Grand Prize SciFi author, Techno
John Yarrow, Technology Expert, professor, and award-winning author
A two day book room managed by Village Books!
During the conference, a 2-Day Book Fair, open to the public, hosted by Village Books, will feature the books of attendees and presenters.
As an added bonus the best selling books of the weekend will be featured at both of Village Books locations!
Visit our Book Fair page for more details.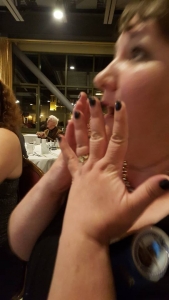 An Awards Banquet for the 2017 Chanticleer International Writing Competitions
And the crowning (ahem, crowing) gem of #CAC18 is the Awards Banquet that will take place on the evening of Saturday, April 21, when we recognize the First in Category winners and announce the Grand Prize Genre Winners and the Overall Grand Prize Winner of the  2017 Chanticleer International Writing Competitions Book Awards! 
[/fusion_text]
And even more…
Now due to popular demand, our Master Classes will be held on SUNDAY, April 22, 2018.
Master Classes are available to non-conference attendees. Register here! 
Friday, Saturday, Sunday April 20 – 22, 2018
Story. Production. Beyond.
Chanticleer Authors Conference
Our conference package offers:
Sessions with a special focus on the business of being a working writer with topics such as marketing, publicity, platform, sales tools & strategies, publishing, production, distribution, organization, story craft, editing, and more.
An amazing lineup of presenters and faculty.
A staffed book room where ALL attendees may have their books for sale all weekend, culminating with our book fair on Sunday, open to the public.
Lunches and dinners throughout the conference, plus tickets to our Award Gala on Saturday.
A fantastic community of like-minded authors for all the support and sharing of experience and advice you could ever want
Vendors and businesses invested in your success. Gifts from sponsors, like The Writer magazine, will be handing out free copies of their publication to attendees and free subscriptions to the grand prize winners of our writing competitions.
Click here for CAC15's Photos – see what you could be missing if you don't register today!
Previous attendees had this to say:
"You made me, a first time author, feel like a writer. In addition, I found the conference unique, focused, and an amazing learning experience." Nancy Adair, Bellingham
"Thanks for an amazing conference. It was a blast to meet so many talented people, and I learned a ton. I came home bursting with ideas for new stories as well as ways to better market and sell the ones I have. It was more than worth the cost of attending."
Scott Smith, author of AN OUTCAST STATE, Hawaii
Please click on this link to see the six options available at this time.
Chanticleer Conference Tracks:
Marketing, Publicity, Platform (MPP) – Social media savvy, author websites, branding, driving discoverability, cultivating readership and gaining exposure in today's market.
Sales Tools & Strategies (STS) – Sales Facilitators: Covers, Reviews, Early Readers, Pre-sales, etc. Applying business sense to sales strategies. Currency Exchange: Dollars for exposure.
Publishing, Production, Distribution (PPD) – Form & Design. Pitches & Concepts. Working with booksellers. Current Publishing Trends. New Digital Media. And More.
Story, Editing, Development (SED) – We're writers. Naturally, we're gonna talk about writing.
Organization, Motivation, Self-help (OMS) – Get your mind on the right page.
A Touch of Hollywood (ToH) – It wouldn't be the West Coast without it.
Networking & Fun (NetFun) – Special events and networking opportunities.
Kaffee Klatsches (KK) – Informal gatherings led by some of our speakers and guests.
You do NOT have to be a published author to attend this conference!  Aspiring authors, and writers of all levels, will benefit immensely from this conference. We will also offer "writing concept" classes to get you on your way!
CAC18 REGISTRATION PACKAGES
*Refunds are available until January 20th, 2018 with a $25 deduction for administrative costs. Please email: admin@ChantiReviews.com to request a refund of conference fees.
**Chanticleer Authors Conference 2018 reserves the right to cancel or change speakers and program at anytime.
Meet other members of the Chanticleer Community of Authors and Readers at this fun and informative event featuring:
CBR Awards Banquet–You don't have to be a CBR winner to attend this exciting event! 

We will have a Book Room for attending authors that will be open to the public

Conference with workshops/social media sessions/marketing lessons

Networking Opportunities

Prizes and Drawings
Single Day Passes and Multi-Day Passes are available
Companion passes for dinners and cocktail parties are available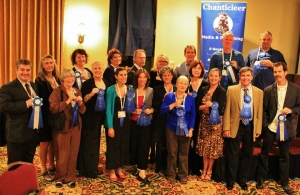 The Chanticleer Awards Banquet and Conference will feature:
Three full days of classes, sessions, author events, and a book fair
Coffee, tea, and snacks daily
Luncheons, Cocktail Parties, Dinner, and the Awards Gala & Banquet
Presenter opportunities for attendees. Please submit your class proposal asap, time slots limited
The Chanticleer Awards Gala & Banquet honoring our 2017 contest winners and naming the best books of the year
Keynote Speakers
Exhibitors: Publishers, Author Services, Platform Services, Author/Reader Apps, etc.
Book sale opportunity for conference attendees and presenters
Book Room: OPEN to the PUBLIC on Friday, Saturday, and Sunday
Book Room: Author Signings and Panels, Door Prizes and Drawings Sunday
CAC18  Exhibiting Space, Advertisement, and Sponsorship opportunities are available. Please email KBrown@ChantiReviews.com for more information.