Listen to or download this article: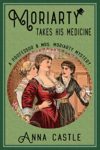 Publisher: Anna Castle (2017)
Buy the book now at:

Amazon
Author's Website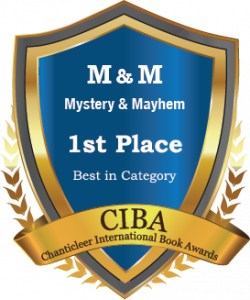 In Anna Castle's British historical, cozy mystery novel, Moriarty Takes His Medicine, we find James Moriarty and his new bride, Angeline, struggling with their exciting, new relationship once the dust settles, so to speak.
James Moriarty, Sherlock Holmes's nemesis, is a man who cares deeply for his wife, so much so, that he is driven to distraction and embraces the help of his former foe as an ally to help rescue Angelina from grave danger.
Sound like a melodrama? It is. Melodrama at it's best, with strong women characters from the 1880s in several roles, providing a 2020 twist to the male-dominated period. That being said, Castle is no slouch when it comes to providing accurate historical details. She's done her research and offers it up in an engaging and entertaining novel. The health spas and health tonics of the time provides an impressive backdrop to the mystery she develops, as Sherlock Holmes comes to Moriarty for help on a curious case, the death of a beloved aunt whose nephew suspects foul play. Together Moriarty and Holmes uncover a plot of devious mischief by medical professionals at a high-end spa/hospital where several elderly women and wealthy wives have stayed, only to die unexpectedly at home. Castle begins with the death of one woman.
Moriarty, Holmes, and Watson find that many of the women's deaths went unchallenged because they all died at home after their stay, pointing to their own negligence and not that of the hospital, a devious plan, to say the least. Dr. Watson plays a small but crucial role at the beginning of their investigation as he uncovers the meaning behind "the Clennam treatment," referring to a character from Little Dorritt, a Charles Dickens novel. And so, as Holmes is want to say, the game's afoot.
Angelina's past as a performer, a vocation she sorely misses, provides her with a means to help when she realizes her sister is being sent to the notorious spa for "the Clennam" treatment, code for "kill her." Angelina takes on the most dangerous role of her life when she finds herself under the "Clennam" treatment.
Castle introduces the tonic as one in a series of archaic and debunked methods of treatment. She also explores aspects of electric shock therapy, and "the rest cure," a popular method of treating a nervous and perhaps unruly woman to a treatment that did nothing to cure the root cause of their ailments. Alas, at that time, the men knew best even when they were wrong.
Castle turns this male-dominated society on its head. Women display their strength and ability to problem solve as they help to resolve this crime, and they do it with the full support of their men. A very satisfying twist on the social norms of the time, which brings us to a satisfactory conclusion.
In the end, we have something akin to a Shakespeare "comedy," all the "good" characters live, all the lovers end up happily together, and all the villains fail and are doomed to suffer.
As the second novel in a series, this book could stand-alone. This romp through the beloved world of Sherlock Holmes will surprise you at every turn and please Sherlockians as well as lovers of British cozy mystery fans.
Moriarty Takes His Medicine won First Place in the 2018 CIBAs for Mystery and Mayhem.