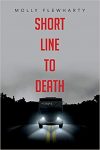 Publisher: BookBaby (2019)
Buy the book now at:

Amazon
Author's Website
An upcoming divorcee has no idea that her life is about to change when she gets involved in a murder investigation in Molly Flewharty's, A Short Line to Death.
Madeline Williams moves from New York to the small town of Cross Keys, Pennsylvania. She hopes the change will do her good since she's in the throes of a divorce. Madeline decides to take the bus over driving on the long commute to her Manhattan job. Traveling is lonely since she is the new kid on the block among a group of regulars. That changes when Tom Firemark, the handsome owner of The Opossum, sits next to her during their daily trips.
Madeline and Tom's growing friendship shifts when they become eyewitnesses to a mysterious murder on the bus, which is the second murder that has occurred in the town over the last few months. Since Police Chief Billy West is over his head trying to solve the first crime, Tom, who has PI experience, takes it upon himself to do his investigations on this newest incident. Because Madeline was an innocent bystander at the scene of the crime, he invokes Madeline to join him in sleuthing.
Teaming together proves to be better than Madeline imagines as the two become more comfortable with each other amid processing a flurry of possible suspects. But as the puzzle pieces begin to fall in place, Madeline finds herself way over her head. Whether or not she can complete the investigation unscathed remains to be seen.
First-time author, Molly Flewharty, spins a host of red herrings in A Short Line to Death. She pulls from her own experience commuting from Manhattan to Pennsylvania to create the small-town setting and accompanying atmosphere replete with a well-rounded mix of elusive characters. Top on that chart is Roberta Carlson (whose ultimate demise is shocking yet a welcome to those who were tired of her surly disposition) is at the center of Tom and Madeline's investigation. Now with the most obnoxious person out of the way, sniffing out the murderous culprit may be tougher than the team anticipates.
Chapters filled with detailed descriptions of various Cross Keys establishments and homes alternate between the police chief's frustrating search behind the death of the town's miscreant, Bart Grickly; Tom and Madeline's investigation; and Madeline's struggles with her broken marriage and new-found feelings towards Tom.
Flewharty delivers a tension-filled mystery banquet of suspects ranging from ordinary people with personal problems to those we're sure "did the deed."
A Short Line to Death will have mystery fans lined up to see what's next from Flewharty. Highly recommended.