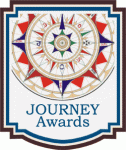 The JOURNEY Awards writing competition recognizes emerging new talent and outstanding works in the genre of  Narrative Non-fiction. The Journey Awards is a division of the Chanticleer Book Awards & International Writing Competitions.
We are pleased to announce the JOURNEY Awards Official Short-List (Semi-Finalists)  for 2017 for Narrative Non-fiction.
Congratulations to the JOURNEY AWARDS 2017 SHORT LISTERS  Semi-Finalists and Good Luck to them as they compete for the First Place Category Positions.
***We will have a SHORT LIST BADGE posted HERE soon! *** please check back!
The Official 2017 JOURNEY Awards SHORT – LISTERS:
Kari Rhyan – Standby for Broadcast
Marilynne Eucgubger – Lives of Museum Junkies
Theresa Mathews – Fishing With Hyenas
Rachel Thompson – Broken Places
Deeann Callis Graham – Head-On, Stories of Alopecia
Judith Works – Coins in the Fountain
Susan Marie Conrad – Inside: One Woman's Journey Through the Inside Passage
Dennis P Freed – Love, Loss, and Awakening
Lou Lesko – The Ghost of Communism
Dr. Scot Hodkiewicz – Getting to Heaven By Going Through Hell
Bruce Rettig – Refraction
Kevin M Maher – No Couches in Korea 
Karen Elizabeth Lee – The Full Catastrophe: A Memoir
*This is an incomplete list as of Sept. 10, 2017. Please check back. Thank you!
Good luck to all the Journey Awards Semi- Finalists who made the Short List as they compete for the First Place Category Positions. First Place Category Positions will be announced on Saturday, April 21st, 2018 at the annual Chanticleer International Book Awards ceremony.
More than $30,000 dollars in cash and prizes are awarded to Chanticleer International Blue Ribbon Awards Winners annually.
We are now accepting entries into the 2018 JOURNEY Awards. The deadline is February 28, 2018. Click here for more information or to enter.
HOW TO, GUIDES, SELF HELP, and GUIDES works should be entered into the NON-FICTION BOOK AWARDS. Please click here for more information:
More than $30,000 worth of cash and prizes will be awarded to the 2016 Chanticleer Novel Writing Competition winners! Check out out fifteen genres to enter your works into to compete on an international level and distinguish your books from the two million new titles hitting the market this year.